What six months of job hunting taught me
Lessons in facing rejection and surviving tough/bizarre interviews
Welcome to Art Science Millennial, a newsletter for non-techies navigating the world of tech! I know the struggle because I'm one of you.
---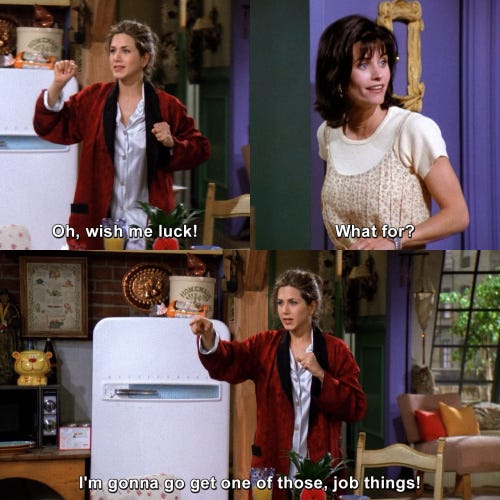 Famous last words.
Half a year. That was how long it took for me to secure a job after completing my data science bootcamp.
Considering that I was trying to transition from a media career to data analytics, it was not an extremely long period of unemployment to endure. Nonetheless, I picked up my fair share of lessons from the school of hard knocks. Here are some tales from the frontlines of career switching.
Tldr
Put aside enough money for the estimated duration of your retraining and job hunt, then add another two months' worth. Your bank account erodes faster than you think when the input is turned off. 

Grow a thick skin as the vast majority of your resumes will disappear into the job vortex of nothingness.

Your network yields much better returns in terms of interviews than simply blasting resumes out.

Be ready for tough interviews and bizarre ones too. Both will make you eat humble pie. 
---
The key to staying the course: $$$
Before taking the plunge to pursue data analytics full-time, I had put aside enough cash to last for not just the course period, but also the additional six months I estimated it would take to find a job in analytics afterwards.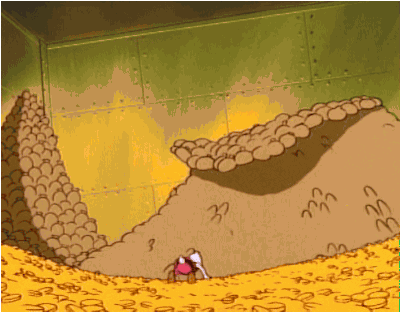 Rough approximation of the amount of savings needed to tide through a career switch.
Yet as the months dragged on without a job, the dread of being stuck in unemployment limbo grew. The longer you're out of work, the harder it is to find work. A month out of bootcamp, I was an embodiment of retraining. Three months out, and the sheen of enthusiasm was wearing off. Four months and desperation was starting to creep in. 
On top of the stress of job hunting, there was also the added toll of watching my bank account dwindle. A cup of bubble tea started feeling like a real luxury. Ultimately, I managed to secure a data analytics job before my cash stash completely eroded. But without the cash buffer, I might have been forced to cut my losses and go back to my old industries of journalism or corporate communications.
Hurting from some ghosting
If you're the type who needs closure in everything, you're in for lots of heartbreak. About 90 per cent of the job applications I sent out did not even receive a "we regret to inform you…" rejection.
When love is a one-way street.
Most of the subsequent followup emails similarly vanished into the black hole of cyberspace, otherwise known as HR inboxes. So be prepared for an avalanche of silent rejections, but keep those followup emails going: One of my most promising leads came after a hiring manager replied to my followup.
---
Like what you're reading so far? Sign up so you don't miss the next update of Art Science Millennial!
---
Time for your network to shine
Out of about 10 interviews I did manage to secure:
50 per cent came through introductions by friends.

30 per cent were from meet and hire events.

20 per cent were from applying for job vacancies.
My chances of clinching an interview were much greater whenever someone I knew introduced me to the hiring manager. If you see yourself in the job market in the near future, start refreshing ties in your network now. It's much harder to ask for something if the last time your acquaintance heard from you was the second year of junior college.
As for employers that I met at meet and hire events, I found that they were mostly willing to look past my lack of experience, at least for the time being. It was akin to scoring an instant first interview where I got to showcase my data projects and personality. And the interactions that didn't lead to another round of interviews were still useful as I got to practise and sharpen my pitch.
Now, of course if you already have a kick-ass resume, leveraging on your network and industry events is less important. But for career switchers like myself, every chance to bypass the lack of track record is precious.
Get used to the taste of humble pie at interviews
Each of the interviews I attended was a story in and of itself but two experiences stood out.
The first gave me a taste of the so-called whiteboard test. The interviewer, standing beside me, gave me a mathematical problem to solve and I had to write code on the spot on a whiteboard while two other interviewers sat and watched. It was like taking your maths exam while three teachers hovered over your shoulder inspecting every line of working. Or being asked to write a news story while three copyeditors scrutinised every word. As. You. Typed. Them.
To their credit, the interviewers were exceedingly kind, providing helpful suggestions on how to proceed whenever I got stuck, which was about once every 30 seconds. I remembered heading home with shredded nerves and spending the rest of the afternoon in bed with the certainty I had flunked out. 
But I was called up for the next round and told the test was less about writing flawless code than about sussing out my thought process when dealing with a problem, so I actually did ok. It was a big lesson for me - never throw in the towel even when you feel like you're making a fool of yourself. 
The second experience, with another company, was equally mind boggling but for completely different reasons. After hearing my answer to how I would approach a data science problem, the head of technology declared, with a strong hint of disdain in his voice, he had no idea what this whole linear regression thing I had mentioned was. It was like a chemist proclaiming he had never heard of atoms.
To be fair, he may have wanted to hear a more general answer, perhaps about collaborating with different departments to shape the problem. But his tone of "I don't know it so it must be unimportant" raised alarm bells in my head. I toyed with the idea of standing up and ending the interview with a flourish:
Come on, you must have fantasised about doing
this
at your job interview at least once.
But I figured I was new to the industry and couldn't afford to piss anyone off, just in case that person was in the position to screw up my next shot with another organisation. So I stayed in my seat and wrapped up the interview quickly but professionally.
---
One last point — If I didn't have enough savings, I would have been hankering after that job even though it was obviously a poor professional and cultural fit for me (see point 1 at the start of the article). So money gives you options and ensures you can run the marathon of job hunting at your own pace.
Do you have any job hunting tips to share? Got some interview horror stories of your own? Leave them in the comments or write to me at zi.liang.chong[at]gmail.com to keep the conversation going!
---
Thank you for reading Art Science Millennial! If you enjoyed this piece, sign up so you get subsequent updates in your inbox!