"I don't have time" is the worst excuse
It lets you off the hook instead of taking responsibility for how you're spending time
Welcome to Art Science Millennial, a newsletter for non-techies navigating the world of tech! I know the struggle because I'm one of you.
---
What's the first thing you say when you haven't gotten around to doing something you said you would?
The most common response would probably be "I don't have time". I've always found this answer vaguely dissatisfying, but couldn't quite put my finger on why until I read "Rework". It's a book of advice on starting your own business but it contains so much that can be applied to life in general (shout out to my friend James for introducing the book!).
It has a short section titled "No time is no excuse" that articulates so much of my uneasiness with "I don't have time". These are some of the reasons why I'm going to try kicking the habit of reflexively giving that answer.
You give up doing anything about it
Once you utter "I don't have time", there's a certain ring of finality to it. After all, there're only 24 hours in a day, a fact of life that mere mortals cannot alter. So that's that. End of discussion.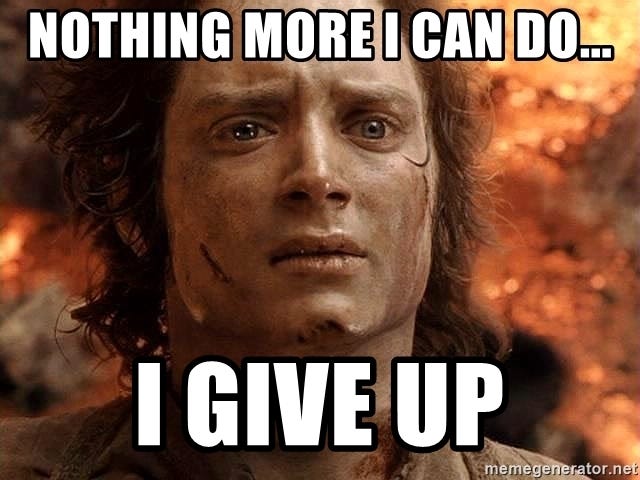 Whatever grand plans you have — learn a sport, start a website, paint the apartment — gets caught in a state of suspended animation.
Looking back at some of my plans that came to nought, I realise I just wanted to feel good about having these plans while reaching for the "I don't have time" excuse to avoid doing anything about them.
You avoid responsibility for your own choices
Our modern lifestyles mean that many a times we're truly time-strapped. So when you tell your friends that you would really like to learn to play the piano if only you had the time, they'll probably just nod along and say some words of commiseration.
I've done this myself more often than I care to admit. Yet somehow I still manage to watch three seasons of "The Marvelous Mrs Maisel" and squeeze in a few sessions of "Among Us". So "I don't have time" is really code for "I would rather laze around for that two-hour window I have tonight because I just want to chill."
Or, as "Rework" puts it:
When you want something bad enough, you make the time — regardless of your other obligations. The truth is most people just don't want it bad enough. Then they protect their ego with the excuse of time. Don't let yourself off the hook with excuses. It's entirely your responsibility to make your dreams come true.
To be clear, I think there's absolutely nothing wrong with wanting to chill. I mean, I really did watch those three seasons of "The Marvelous Mrs Maisel" (fantastic show, it deserves all those Emmys!).
But I also think it's sobering yet empowering to take responsibility for my choices. The difference between owning my own actions and blaming the clock:
"I chose to watch TV": Well, I guess I don't truly want it bad enough. And if I did I'll cut my TV time.

"I don't have time": Well, I guess it's just too bad.
---
Like what you're reading so far? Sign up so you don't miss the next update of Art Science Millennial!
---
A close cousin — "Now's not the right time"
"Now's not the right time" is another common refrain that we hear.
To quote "Rework" once again:
Besides, the perfect time never arrives. You're always too young or old or busy or broke or something else. If you constantly fret about timing things perfectly, they'll never happen.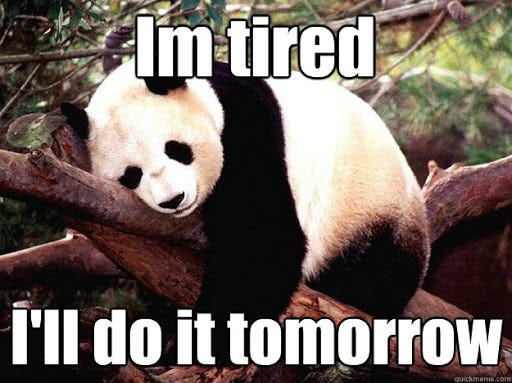 Now, I think there are certain situations where it is actually wise to wait. But there's a big difference between biding your time and kicking the can down the road.
Biding your time: I'll take a year to pick up a new language before requesting for that overseas posting.

Kicking the can down the road: I don't have the experience yet and I'll never be picked for the overseas posting. I'll probably just apply next year.
Put another way, there's always something you can do right away to make your dream that much more realistic, even if now's not the time to take the plunge. Now's not the right time for that switch to a tech career? Then start with those online coding courses you've been meaning to do for the longest time. These bite-sized steps can also test if your interest is just a passing phase or a lasting passion.
tl;dr
The two main points on my to-do list:
Instead of saying "I don't have time", say what I rather be doing.

Instead of saying "now's not the right time" and leaving it at that, define and do the smaller steps I can be taking right now until the time is right.
---
I'd love to know what you think of this newsletter and what you'd like me to write about. You can reach me by replying to this email or by leaving a comment if you're reading this on the Art Science Millennial website. If you enjoyed this piece, sign up so you get subsequent updates in your inbox!